Delight the taste buds with Midwest treasures
We are lucky to live in the Midwest.
You might think that when it comes to a thriving food scene you might only find one if you live in a large metropolitan area like New York City or L.A. While it is true those places have enough scrumptious food to make anyone's mouth water, there are distinct advantages to living in the Midwest.
Especially when it comes to what's grown and raised right here.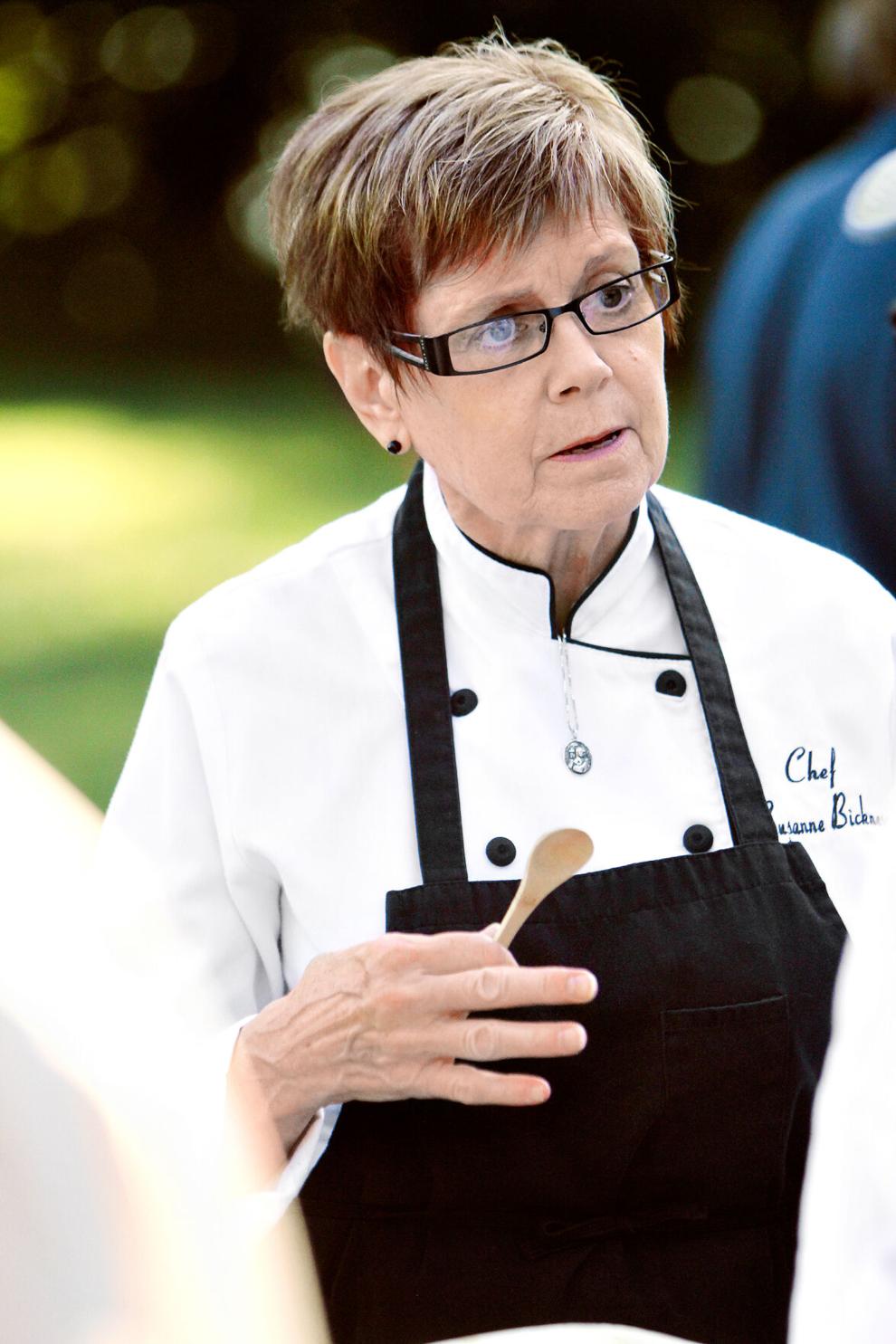 Susanne Bicknese, a longtime favorite, local chef and caterer, believes in celebrating the best of what the Midwest and Iowa has to offer and one of those things is pork.
"We have access to such wonderful pork here in Iowa. And now that they've changed the cooking temperatures for pork, it is even better and juicy and moist," Susanne said.
Her recipe for Hoisin Teriyaki Pork Tenderloin is one that is great for a family or for a special celebration as it can be dressed up.
"I love pork tenderloin because it is so consistent," Susanne said. "It's not fatty. It's always the same texture and when you cook it, it slices beautifully. It's always so moist."
Another great thing found in the Midwest are apples.
"We are apple-rich in the Midwest. There are wonderful Iowa apples, Minnesota apples, Wisconsin apples and Michigan apples and every university in those states is developing new varietals every year," Susanne said. "We have access to some of the best apples in the world here in the Midwest. And we can have apple desserts all year round."
For a beautiful, impressive yet simple dessert an apple galette is the answer.
"I love galettes and we do a lot of galettes that feature different fruit," Susanne said. "This rustic apple galette is really lovely. You eat first with your eyes and when it looks appealing it is going to taste even better."
---
Apple Galette
Ingredients: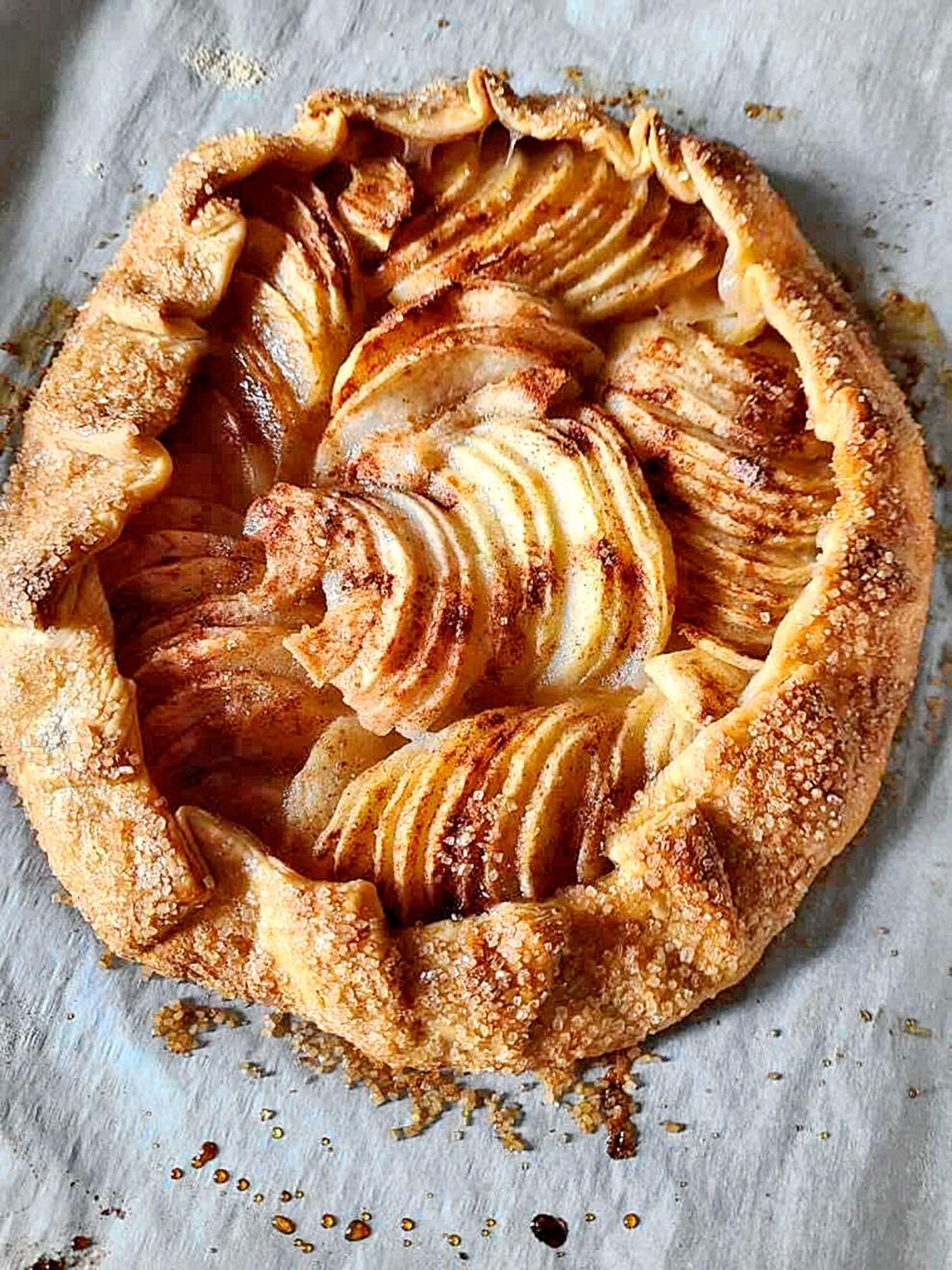 ■ Your favorite pie crust recipe made with butter
■ 4 medium Honeycrisp or Granny Smith apples, peeled and thinly sliced
■ 1/4 cup sugar
■ 1/2 teaspoon cinnamon
■ Pinch freshly grated nutmeg
■ 1/4 cup flour
■ 1 egg, beaten
■ 1 teaspoon Turbinado sugar
■ 1 tablespoon butter, diced
■ 3 tablespoons apple jelly
Instructions:
Roll dough to a 12-inch round on a lightly floured sheet of parchment. Combine apples, sugar, cinnamon and nutmeg. Sprinkle flour on pastry leaving a 2-inch border. Arrange apple slices in an attractive pattern on pastry leaving a 2-inch border. Fold up the border of the pastry, leaving the center open. Preheat oven to 375 degrees. Brush edges of pastry with beaten egg and sprinkle with Turbinado sugar. Scatter diced butter over the apples. Place parchment with galette on a rimmed baking sheet. Place baking sheet on a lower rack in preheated oven. Bake 40-45 minutes until apples are tender and crust is golden. While galette is baking, heat apple jelly until melted. Remove baking sheet from oven and let galette cool for 10 minutes, then brush apples with melted jelly. Let cool and cut into wedges. Serves 8 with ice cream or whipped cream.
---
Hoisin Teriyaki Pork Tenderloin Marinade
Ingredients: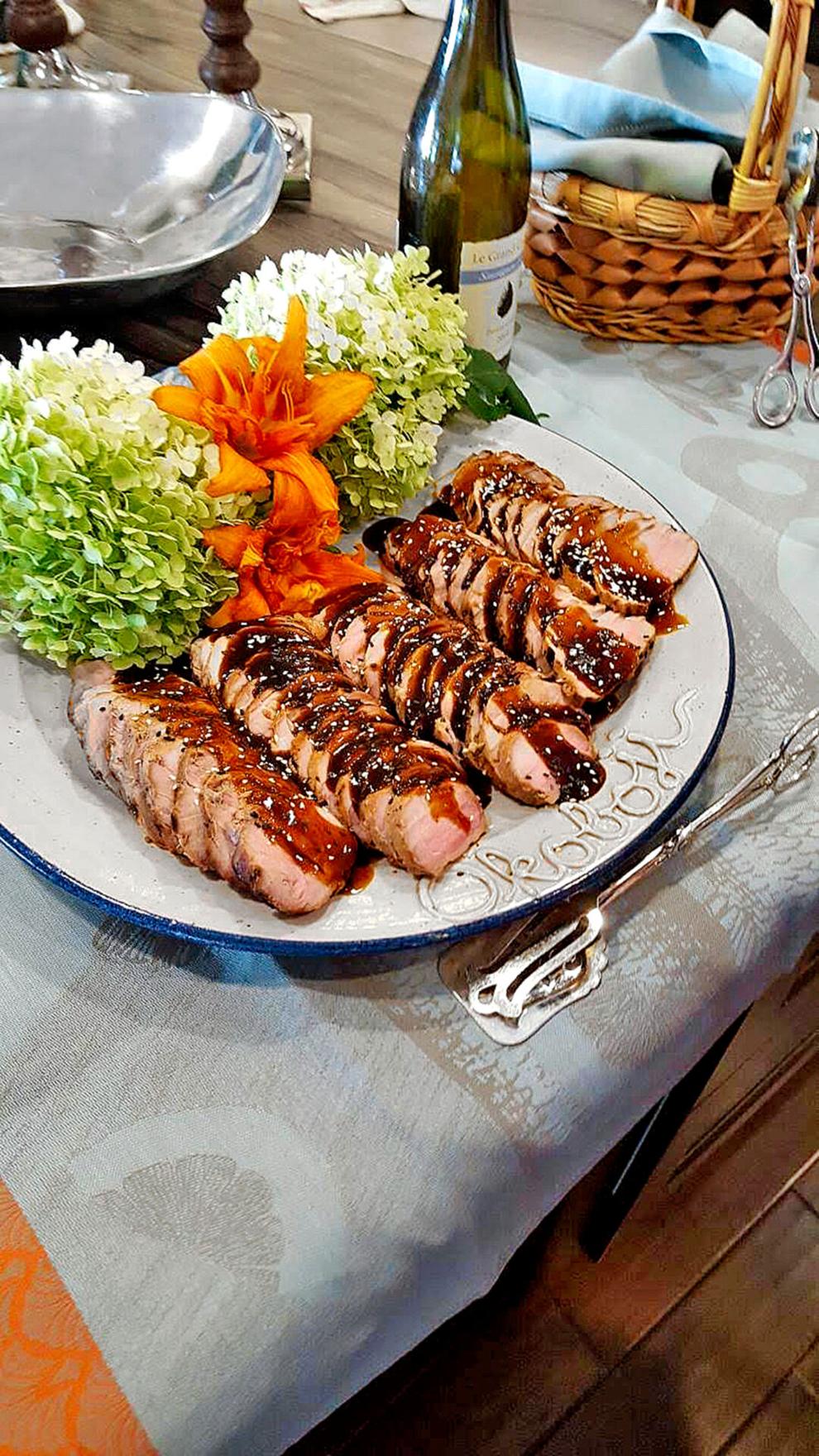 ■ 3 tablespoons Hoisin sauce
■ 3 tablespoons Teriyaki sauce
■ 2 tablespoons soy sauce
■ 2 tablespoons honey
■ 2 cloves garlic, minced
■ 3 scallions, thinly sliced
■ 1 tablespoon sesame oil
■ 1 teaspoon minced ginger
■ Salt and pepper to taste
■ 1 pork tenderloin
Instructions:
Place all ingredients in a zip lock bag. Marinate 3 to 5 hours in refrigerator. Heat grill to medium high. Remove pork from marinade. Place marinade in saucepan. Bring to a boil and heat until thickened. Grill pork until internal temperature registers 145 degrees. Remove from grill and let rest 10 minutes under foil. Slice pork into medallions. Drizzle with thickened marinade. Serve garnished with toasted sesame seeds. Serves 2 to 3.